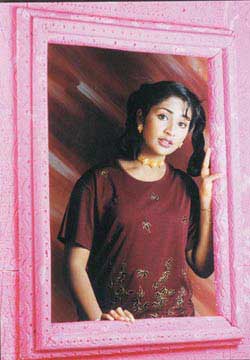 MY FIRST INTERVIEW :
Did the relatives support you ?
My uncle advised me to take up the acting career once i am done with my 12th Std. When Sibi Malayil sir's offer came through, he asked me to accept it.
What's your experince in 'Ishtam'?

I'm playing the role of a cowardly character who is leaving for states due to the ragging in her college. Later comes back as a bold person. DIleep chettan, Sibi Malayil sir and rest of the crew were very supporting also..

Do you like this field?

Of Course. I always wanted to be a part of this.


Everybody says that you are performing well without making the problems of a new face.

That's very simple. Sibi Sir and Others will show me what to do before each take. All what I've to do is just imitate the same.


Who is your favorite hero and heroine?

Shah Rukh Khan. But, as a romantic hero, I like Madhavan very much. Those beautiful eyes......, lips. Manju Warrier is my all time favourtite. I like Urvashi aslo, she is a brilliant comedian and actress.......then it is a blessing for me to work with Sharada aunty in Mazhathukillukam.


In 'Ishtam', there are a lot of romantic scenes. while acting in those scenes did you really feel romantic?

I don't know. There's a scene in 'Ishtam' in which I say 'I Love U' to Dileepettan.


Did you feel 'anything' at that time?

Hm...... a little bit of shame.


Have anybody told you 'I Love U' yet?

Oh....., who's there to say in my 'girls school'! Then........, my girl friends would often say: "I like you very much Chechi.....".


What do you enjoy most in your life?

If you don't make fun of me......., I'll tell you - eating chocolate and icecreams......!


Your hobbies?

Sleeping, listening music, then...... I usually watch Manju Chechi's acting.


Other offers ?
I got offers from tamil movies but didn't accept them. Also i was invited to be Jayaram's actress in a malayalm film directed by Rajasen. Since Mazhathukillukam was not over, i couldn't go in for that .
Future plans......?

I'd like be an engineer.