Everybody in the industry knows that Mohanlal needs a hit badly. The superstar has now turned to director K.Madhu this time to salvage his career. 14 years back this director had given Irupatham Noottandu which was one of the biggest hits in Lals career. Now, Mohanlal plays a small time politician Attiprakal Jimmy in K.Madhu directed film Chaturangam. The film they say is a mirror image of what is happening in Kerala congress parties where sons are calling the shots. Jimmy of Chathurangam is a wrestler and do-gooder politician who becomes the favourite of Kerala Desam Congress partys K.P.Thomas. Nagma makes an appearance in the film as an IPS officer who is gunning for Jimmy. Mohanlals love interest in the story is Navya Nair. Babu Janardhanan has written crisp dialogues for the film which is rumoured to be the life and times of Kerala congress chief K.M.Mani and set in the Christian milieu of Central Travancore.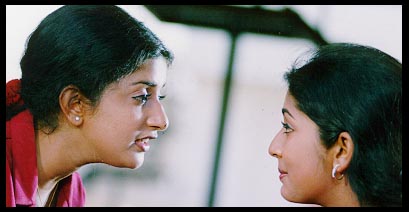 Trouble on the sets of 'Gramophone'
Dileep has left for a European tour. Shooting of the film 'Gramophone' is almost over too. But, a tiny incident happened while the shooting was on. Someone decided to play a prank on the two heroines of the film Navya and Meera Jasmine. So, one heroine was set against the other and soon, they were ready to tear each other's hair. Director Kamal had to indulge in some high volume shouting at both the heroines before peace could be restores on the sets. They were also trying to find the person behind this prank. Shooting happens amidst thousands of problems. Another one on the sets between co-stars? Dileep-Navya Nair-Meera Jasmine starrer Gramaphone to be released for Onam. The film directed by Kamal is sure to bring a lot of sentiments and nostalgia to a vast section of moviegoers with its enchanting music and life history of local heroes.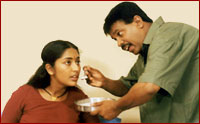 Navya Nair in Kunjikoonan: For the first time, Dileep is in double role and that too one of a hunchback and the other as a student. Though the role of hunched back character is exceedingly hefty, Dileep is carrying it well. More over all these physical fatalities are essential for such a character and this could be a challenging venture for Dileep. The project was abandoned a year ago but it is revived now. Director Sasi Sankar has started this film in Thodupuzha and its surroundings. There are two pairs of lovers in this film named Kunhikkoonan. The story revolves round a hunch back Kunhan and his lover, a blind girl and a pair of college students, Prasad and Lakshmi.